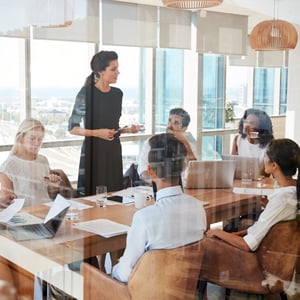 For many organizations, meetings and events are handled separately from corporate travel. In fact, more than half of companies book meetings through unmanaged channels. Yet, over the past five years, consolidating these functions has grown steadily – two-thirds of all travel and meetings programs are expected to be fully consolidated this year. But what's driving this trend? And how are organizations benefiting from it?
According to
GBTA research
,
"improving cost visibility and transparency, maximizing spending through better negotiated rates, and increasing efficiencies through business automation are the top three drivers of consolidation."
By leveraging overall spend volume and reducing technology redundancies, travel managers as well as meeting and event planners cite the following benefits:
Cost savings gained from booking travel and meetings together

Reduced administrative burden for meeting organizers

Improved policy compliance across the organization
How Consolidation Drives Down Costs
In corporate travel, savings are driven by volume. By combining spend between travel, meetings, and events, this increased volume can lead to greater leverage during the request for proposal (RFP) process and better supplier discounts from air, ground transportation, and hotel partners.
Beyond these immediate benefits, consolidation can further improve an organization's bottom line by eliminating soft costs. These include:
Expenses related to tech redundancy

Low policy compliance

Admin time spent coordinating between departments
Consolidation also offers stakeholders greater visibility into their data and aids procurement conversations. This deeper level of insight enables faster decision-making across the board.
Additionally, when everyone is on the same page, both meeting and travel stakeholders can harmonize their tasks to improve productivity and travel policy compliance across the board.
Improved Consistency Across Programs
When a single organization manages several program types, there are inherent savings earned along the way. However, when these programs are managed separately, with stakeholders and managers working in silos, those benefits can evaporate. Consider this example: an executive assistant has been asked to organize a simple meeting for the Board of Directors. Without knowledge of the company's travel program, the travel arrangements for the attendees fall out-of-policy, duty of care tools aren't leveraged, and preferred supplier discounts aren't used. Now, imagine that's happening with every meeting and event – these missed opportunities significantly pile up over time.
Alternatively, collaboration between these groups offers increased visibility and efficiencies, making it easier to pinpoint opportunities for savings and process improvements. And, coordination between systems and process allows for more efficient payments and reconciliations.
By tearing down inter-departmental barriers, businesses benefit from consistent services, streamlined processes, and increased traveller satisfaction.
Enforceable Policy and Process Improvements
Combining travel and meeting processes creates alignment among travellers, travel managers, meeting planners, and leadership. When all travel bookings are being processed through the same approved channels, it provides an additional layer of support for the organization's travel policy. This improves not only cost savings and booking efficiencies, but also duty of care through greater transparency into traveller movements. The benefits driving consolidation can compound as more aspects of each program are combined. Nevertheless, challenges may arise during the pursuit of a consolidation effort.
Potential Challenges
Though many organizations have seen success consolidating their meetings and travel programs, the process isn't always smooth. The most effective consolidations use strategic change management, advanced analytics and key technologies to achieve their intended benefits. It's also essential to get buy-in from senior leadership to champion these processes. To learn more about how a travel management company can empower your organization to streamline its meetings and travel programs, contact us today.